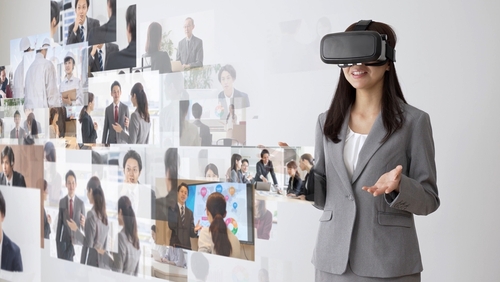 Metaverse has become a buzzword with much debate on its potential implications once it is fully realized. As far as businesses are concerned, the metaverse presents new opportunities and challenges, especially for marketing, branding and communication professionals.
Understanding Metaverse
Metaverse became a hot topic thanks to Facebook announcing its rebrand to Meta in October 2021. However, the metaverse is not new and can be traced back to 1992 in the fiction novel "Snow Crash" by Neal Stephenson. Stephenson used the term to refer to a virtual world where people can do different activities.
As the internet moves to a new iteration as Web 3.0, different players are working toward creating their metaverse – or rather, a unified virtual space. This virtual environment is intended to be used to carry out activities such as playing games, attending meetings, buying digital goods and services, tourism, education and even for work.
Although metaverse might seem like a futuristic notion that will require massively advanced technologies, its foundational elements are already in place. This is because it's enabled by virtual reality (VR) and augmented reality (AR). Some users, especially gamers, have had experiences with virtual reality and augmented technologies. Some online retailers already use augmented reality on their e-commerce platforms to help shoppers experience a product before ordering it.
However, metaverse technology seeks to connect all of these separate apps and platforms to create a continuous experience that will integrate audiences and elements from different platforms into one. The metaverse will be characterized by a boundless and decentralized virtual economy and immersive social experiences.
It is not possible yet to gauge how disruptive the metaverse will be, but one sure thing is that it will introduce new ways of doing things. As has already been witnessed, to keep up with trends, businesses had to adapt to technologies such as social media platforms even when they were initially created for social interaction. Hence, businesses need to be prepared.
Metaverse in Business
As any new technology helps early adopters gain a significant advantage over competitors, metaverse will be no different. However, it may initially favor large businesses that can afford to take risks and have budgets to invest in enabling requirements. Despite this, different-sized businesses should get ready to adjust their marketing strategies to the virtual economy.
There are predictions that the metaverse could generate vast revenue to the tune of $1 trillion. Hence, the metaverse has a massive business opportunity, including advertising, demand for new hardware, virtual events, e-commerce, etc.
As an example of the readiness for companies to adopt metaverse, consider Nike. The brand has already taken steps into the metaverse by filing for trademark applications, indicating its intention to make and sell virtual branded sneakers and apparel.
Businesses will benefit differently from the metaverse. For instance, companies manufacturing computer chips and servers stand a good chance for a significant gain to their businesses. So will cloud service providers that will be vital for the metaverse virtual worlds.
Manufacturers also will use the metaverse to create digital models of their products using digital twins technology (a virtual representation of a physical object or process). This will help adjust manufacturing processes, carry out quality control, product demos, and simulate the supply chain.
Remote work that was highly adopted due to the recent pandemic will be enhanced by the metaverse. It will be possible to have co-working spaces and carry out virtual trainings and simulations.
It also will help promote physical businesses. By interacting with objects in 3D form, shoppers can try on clothes online, check out houses, cars, etc. The ability to shop virtually means that businesses can design brands to suit different customer needs and increase retail sales.
Such possibilities mean that marketers will need to research customer behavior and preferences in the virtual space. This will require businesses to set up metaverse teams if they want to remain competitive. This is especially necessary to reach customers where they spend their time.
On the downside, there are concerns about privacy issues and data harvesting – like any other technology. The decentralized characteristic of a true metaverse also means it will be challenging to regulate. Such cases introduce risks to businesses. Nevertheless, such risks have never stopped businesses from adopting new technologies.
Conclusion
Customer experience is vital in any business. For businesses to continue maintaining long-term relationships with customers, they may have to adapt and use virtual avatars to serve as customer service agents. Thus, businesses need to be more innovative to tie existing communication channels to the metaverse channel. They can do this by formulating an entry plan to the metaverse while ensuring a balance between opportunities and risks.
---
Disclaimer